Description
Pneumatic pump
Air pressure pump is a new type of transport machinery, is a new type of pump at home.With compressed air as the power source, all kinds of corrosive liquid, liquid containing particles, high viscosity, volatile, flammable, liquid can be absorbed.The air pump was introduced to China according to the invention of American technician Weldon.Commonly used 5 kinds of material are as follows: plastic, aluminium alloy, cast iron, stainless steel, teflon.
Diaphragm pump according to different liquid medium, respectively using butyl rubber, neoprene, fluorine rubber, ptfe and polytetrafluoroethylene.Early domestic users by the importer agent to buy, expensive, cumbersome repair.With the progress of the industry, energy storage wholesale currently domestic air diaphragm pump market share has exceeded imported products.
Arrangement in a variety of special circumstances, extract the traditional pump can not attract the medium, energy storage company has achieved satisfactory results.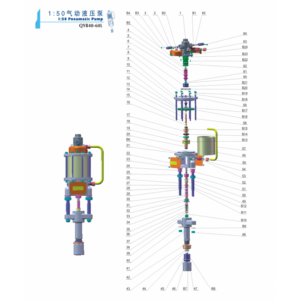 1:50 PneumaticPump (QYB40-60L)
In repair kit
(Item)
(Part No.)
(Description)
Qty
1
150QMD-00-01
Cylinder head
1
2
150QMD-00-09
Exhaust Plate
2
3
150QMD-00-07
Trip Spring Retainer
2
4
150QMD-00-03
Lower valve keeper
1
5
150QMD-00-04
Air Valve
1
6
150QMD-00-38
O – Ring
2
7
150QMD-00-12
Bushing
1
8
150QMD-00-20
Inner Stud Bolt
1
9
150QMD-00-15
Piston nut
1
▲
10
150QMD-00-16
Washer
1
11
150QMD-00-18
Piston
1
12
150QMD-00-23
Single rod
1
13
150QMD-00-21
Spring Pedestal
1
14
150QMD-00-22
Commutation spring
1
15
150QMD-00-24
Spring Pedestal
1
16
150QMD-00-28
Valve Trip Collar
1
17
150QMD-00-26
Piston nut Washer
1
18
150QMD-00-27
Copper Case
1
19
150QMD-00-25
Bushing
1
20
150QMD-00-19
Piston rod
1
▲
21
150QMD-00-29
Motor Base
1
22
150QMD-00-37
Sign
1
23
150QMD-00-32
Butt plate
2
24
QYB-00-23-2
Position Sleeve
2
▲
25
150QMD-00-30
Nut
1
26
QYB-00-23-1
Bolt
2
27
QYB-00-03
Reversing ring
1
28
QYB-00-04
V-Type Packing
3
29
QYB-00-04A
V-Type Packing
2
30
QYB-00-05
Packing Washing
1
31
QYB-00-02
Washer
2
32
QYB-00-07
Washer
2
▲
33
QYB-00-06
Retainer
1
34
QYB-00-11
Seal ring
4
▲
35
QYB-00-12
Reversing ring
2
36
QYB-00-09
Single rod
1
37
QYB-00-10
Packing Washing
2
38
QYB-00-19
Seal ring
1
▲
39
QYB-00-13
Check valve
1
40
QYB-00-01
Pump body
1
41
QYB-00-08
pump tube
1
42
QYB-00-16
Locknut
1
▲
43
QYB-00-15
Ball stop
1
44
QYB-00-24
Washer
2
45
QYB-00-14
Lower valve body
1
46
QYB-00-17
Retainer ring
1
47
QYB-00-18
Adapter loot valve assembly
1
▲
48
QYB-00-20
Nut
2
49
QYB-00-21
Packing locknut
1
▲
50
QYB-00-22
connecting rod
1
51
QYB-00-23-3
Nut
2
52
150QMD-00-31
connecting rod
1
53
LJJ-02D-01
Z 1/2-M22×1.5 Adapter
2
▲
54
LJJ-02D-03
Fastener
2
▲
55
LJJ-02D-02
Nut
2
▲
56
150QMD-00-17
Cylinder
1
57
150QMD-00-36
Air Zine
1
▲
58
150QMD-00-14
Bolt
8
▲
59
150QMD-00-13
Air Cylinder Upper Cover
1
60
150QMD-00-02
Stud Bolt
1
▲
61
150QMD-00-11
Lower valve keeper
1
62
150QMD-00-05
valve sleeve
1
63
150QMD-00-10
Adapter Exhaust Plate
2
64
150QMD-00-08
Bolt
2
▲
65
150QMD-00-06
Trip Spring
2
In repair kit
外购件(Item)
(Part No.)
(Description)
Qty
B1
GB/T 308-2002φ16mm
Ball
B2
Z 1/2"Bulkhead
B3
GB/T93-1987
6 Grower Washer 6
B4
GB/T6170-2000 M6
螺母Nut M6
B5
GB/T6170-2000 M8
螺母Nut M8
▲
B6
GB1235-76 150×3.1
O – Ring
▲
B7
GB1235-76 56×3.5
O – Ring
B8
GB/T 308-2002φ 22 mm
Ball
B9
GB/T95-2002 20
Washer
B10
GB/T 308-2002φ 8 mm
Ball
▲
B11
GB1235-76 24×2.4
O – Ring
▲
B12
GB1235-76 32×3.1
O – Ring
▲
B13
GB1235-76 65×3.1
O – Ring
▲
B14
IIG4-692-67
11G4-692-67 PD28x50x10
骨架式橡胶密封 Framework Rubber Seal
B15
GB/T893.1-1986
Elastic cheek Ring(Bore)
▲
B16
GB1235-76 150×5.7
O – Ring
▲
B17
GB1235-76 28×3.1
O – Ring
B18
GB/T95-2002 10
Washer
B19
GB/T6171-2000M10x1
Nut
▲
B20
GB1235-76 90×3.1
O – Ring
▲
B21
GB1235-76 50×3.1
O – Ring
B22
GB/T119.1-2000 6×18
Pin
B23
GB15780-2000 M8x30
Hexagon Heab Bolt
B24
GB/T93-1987 8
Washer
▲
B25
GB1235-76 22×2.4
O – Ring