Description
Plug Valves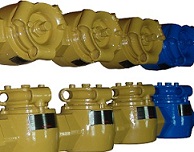 Low torque plug valves are based on the technologies introduced from FMC and SPM, forged from high strength alloy steel. They are robust, field-proven plug valves that provide dependable service for applications such as cementing, fracturing, acidizing, coiled tubing, and sand control.
Features
Low operating torque

End connections of plug valves may be Weco union or male/female thread (LP, TBG)

Maintenance and repair of valve body can be done without removal, and no special tools are needed for removal

The plugs have very good sealing performance

Visible: There is a visible positioner where we can see if valve is open or closed. Brake spring will limit the position of valve

3″ hand wheel opener is suitable for opening in low temperature. Valves can be opened freely and flexibly.
Available
Medium: oil, gas, slurry and sour gas

Working Pressure: 6,000psi, 10,000psi, 15,000psi

Bore Size: 1″, 2″ and 3″

Temperature: normal or low temperature.

Plug valves, manufactured to NACE-MR0175 and API RP-14E, are available and suitable for service in sour gas environment
| | | | |
| --- | --- | --- | --- |
| Model | Bore Size | Rated W.P. | End Connection |
| SF  42 – 1″ x 2″ | 1″ | 6,000 psi | 2″ Fig 602, 2″ Fig 1002 |
| SF 70 – 1″ x 2″ | 1″ | 10,000 psi | 2″ Fig 1002, 2″ Fig 1502 |
| SF 105 – 1″ x 2″ | 1″ | 15,000 psi | 2″ male (LP) |
| SF 105- 1″ x 2″ | 1″ | 15,000 psi | 2″ Fig 1502, 2″ Fig 2202 |
| SF 42 – 2″ x 2″ | 2″ | 6,000 psi | 2″ female (LP) |
| SF 42 – 2″ x 2″ | 2″ | 6,000 psi | 2″ Fig 602, 2″ Fig 1002 |
| SF 70 – 2″ x 2″ | 2″ | 10,000 psi | 2″ Fig 1002, 2″ Fig 1502 |
| SF 105 – 2″ x 2″ | 2″ | 15,000 psi | 2″ Fig 1502, 2″ Fig 2202 |
| SF 42 – 3″ x 3″ | 3″ | 6,000 psi | 3″ Fig 602, 3″ Fig 1002 |
| SF 70 – 3″ x 3″ | 3″ | 10,000 psi | 3″ Fig 1002, 3″ Fig 1502 |
| SF 105 – 3″ x 3″ | 3″ | 15,000 psi | 3″ Fig 1502, 3″ Fig 2202 |