Description
API 6A Low Torque Plug Valve -2″ 1502, 3″ 1502 15000PSI Flange/ Union Type
Plug valves are composed of the valve body, seals, plug and other components. Plug valve is a necessary part that is utilized on the high pressure manifold for the cementing and fracturing operations in oil field and also suitable to control over the similar high pressure fluid. Featuring the compact structure, easy maintenance, small torque, rapid opening and easy operation, the plug valve is ideal for the cementing and fracturing manifolds.
– Body of preventive maintenance and no need to be removed from the pipeline,no special tools required fro removal,which can realize the online maintenance.
– Special plating technology on cock,make excellent abrasion resistance and anti-corrosive.
– The switch of oil has obvious logo and limit mechanism.
– Plug valve have many options open device.
– Plug valve has a low torque performance,flexible operation of portable.
– Special sealing grease lubrication and sealing dual function.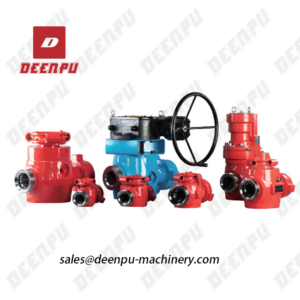 Features of Manifold Control Valve
– Main parts include body, bonnet, plug, segments and hand wheel.
– Cylinder-shaped metal to metal sealing surface between plug and segments ensure reliable working performance.
– Regular end connection is fig 1502M * F unions which can be customized per request.
– Valve shall successfully complete hydro test prior to delivery.
– The valve body is made of high quality aloy steel forging, with high strength, the surface of the cock has been specially strengthened treatment, wear-resistant and corrosion resistant.
– The arc pieces have been aifially aged for up to 10,000 hours and have good toughness.
– Seals are vulcanized several times to obtain better sealing strength.
– The lightweight design of the whole valve improves the operability of the field and reduces the labor intensity.
Plug Valve Specification of Manifold Control Valve
Normal Size
Sealings
End Connections
Rated Working Pressure
Mpa/Psi
Actuation
Dimensions(mm)
Service
L
B
H
1X2″
Single Seal
FIG1502
FXM
105/15000
Manual
269
61
185
Standard
1X2″
Single Seal
FIG1502
FXM
105/15000
Hydraulic
269
61
402
Standard
2″
Single Seal
FIG1502
FXM
105/15000
Manual
353
88
225
Standard
2″
Single Seal
FIG1502
FXM
105/15000
Hydraulic
353
88
433
Standard
2″
Dual Seal
FIG1502
FXM
105/15000
Manual
358
59
207
Standard
2″X3″
Single Seal
FIG1502
FXM
105/15000
Manual
360
88
225
Standard
3″
Single Seal
FIG1502
FXM
105/15000
Manual
432
132
330
Standard
3″
Dual Seal
FIG1502
FXM
105/15000
Manual
398
127
366
Standard
3″
Dual Seal
FIG1502
FXM
105/15000
Hand Wheel
398
127
620
Standard
3″
Dual Seal
FIG1502
FXM
105/15000
Hydraulic
398
127
633
Standard
4″
Single Seal
FIG1502
FXM
105/15000
Manual
562
159
488
Standard
2″
Single Seal
FIG2002
FXM
140/20000
Manual
386
88
226
Standard
2″
Single Seal
FIG2002
FXM
140/20000
Hydraulic
386
88
433
Standard
3″
Dual Seal
FIG2002
FXM
140/20000
Manual
562
159
488
Standard
3″
Dual Seal
FIG2002
FXM
140/20000
Hand Wheel
562
159
771
Standard
3″
Dual Seal
FIG2002
FXM
140/20000
Hydraulic
562
159
710
Standard