Description
hammer union
The hammer union is designed to connect mud tanks immediately without having to deal with flange connections at all. If the storage tank is not aligned in the correct way, the necessary hammer union can still be used to ensure an absolutely leak-free seal. They usually consist of three parts: male, female and nut.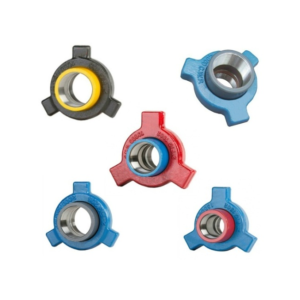 Specification
They are provided with the replaceable elastic nitrile rubber sealing ring and designed for high pressure system with the solid wall thickness.
They are recommended for cementing, crushing, acidifying, testing and blocking and kill line, and also can be used for non-pressure sealed connection. Butt-welded Sch XXH is adopted.
Type 1502: 1500PSI NSCWP, test pressure: 22500PSI, blue nut and red part.
Product details
Nominal pipe size
Total length
Countersink
Nut radius
Material
Weight
Nut
Part
in
mm
in
mm
in
mm
in
mm
lb
kg
1-1/2
38.1
5-13/32
137.0
1/4
6.4
3-21/32
93.0
SF
SF
12.0
5.4
2
50.8
7
177.8
15/64
6.0
3-3/4
95.3
SF
SF
21.0
9.5
3
76.2
7-5/8
193.7
3/8
9.5
4-1/2
114.3
SF
SF
31.0
14.1
4
101.6
8-3/5
218.4
3/8
9.5
6
152.4
SF
SF
74
33.7