Description
Hammer Union
1.Product Overview
⑴.The hammer unions manufactured by our company is mainly used in cementing, crushing, acidifying, test and blocking, Kill line, high pressure manifolds and vehicle-mount system;Underground work is used to connect the various parts of the pipeline construction. Flexible operation, high voltage and other characteristics;
⑵.The high pressure wing union designed and manufactured by our company includes thread union and welding union, with specification 1″~12″ and cold working pressure 14Mpa-105Mpa (2000ps-15000psi);
⑶.High pressure hummer union is marked with apparent connection buckle and pressure rating;
⑷.The anti-sulfuretted hydrogen hammer union is workable under acid environment and shows grass green.
2.Design Features
⑴.With precise ball surface and 90 degree conical surface processed by precise machine, Wing hammer union is of high strength and pressure-bearing capacity;
⑵.The LP thread, UN thread, EU thread, processed by numerically-controlled machine and imported cutter, has high precision and strong sealing, ensures high press and sealing;
⑶.The seal ring is made by imported sizing material. The seal ring can keep strong sealing for joints and avoid joints from corrosion, and prolong the product life;
⑷.The wing hammer union which specially applicable to acid environment is designed and manufactured in strict accordance with NACE MR0175;
⑸.Wing unions joints are all ACME thread, thus it is easy to assemble, disassemble without any tools and it has self-lock function. The product parts are universal internationally and can be exchanged.
3.Use Method
⑴.First Hammer union threaded check again, if the threading dislocation fracture buckle phenomenon should be replaced.
⑵.Check, install rubber seals;
⑶.Hammer union with a wire brush to clean brush and apply sealant on the threads after connecting tubing or size in the head with a pipe wrench to tighten, then use a hammer to hit the tight prison or on the tube hit the clincher.
4.Precautions
⑴ when hit with a hammer and smashed Hammer union to prevent thread.;
⑵. After use should be promptly cleaned up on the workbench.
5.Common Buckle Models for High Pressure wing unions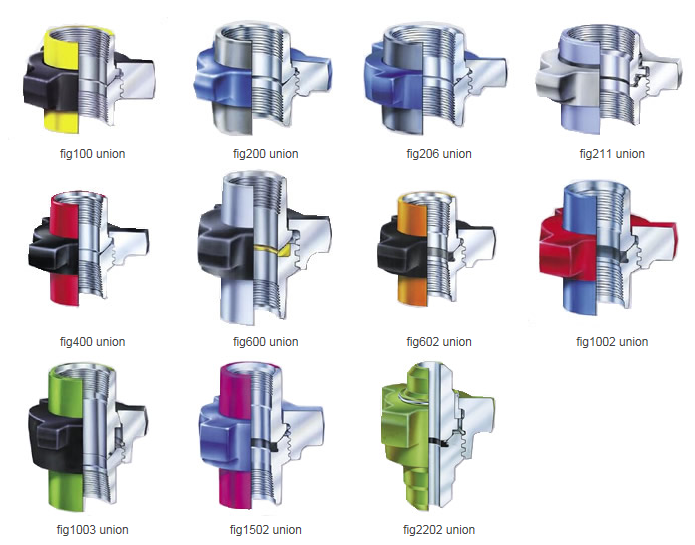 6.Main Technical Parameters for Hammer Union
Production name
Specification
 Working pressure
Working environment
Buckling size
Normal
Anti-sulfur
1 "
1¼ "
1½ "
2 "
2½ "
3 "
4 "
5 "
6″
8″
10 "
12 "

Thread hammer union

Butt welding hammer union

Fig100
1000psi
√
√
√
√
√
√
√
√
Fig200
2000psi
√
√
√
√
√
√
√
√
Fig207
2000psi
√
√
√
√
√
√
Fig211
2000psi
√
√
√
√
√
√
√
√
Fig400
2500psi
√
√
√
√
√
√
√
Fig400
4000psi
√
√
√
√
√
√
Fig600
6000psi
√
√
√
√
√
√
√
Fig602
6000psi
√
√
√
√
√
√
√
√
√
Fig1002
10000psi
√
√
√
√
√
√
√
√
√
√
Fig1003
10000psi
√
√
√
√
√
√
√
Fig1502
15000psi
√
√
√
√
√
√
√
Fig2202
15000psi
√
√
√
How to place an order:Thread hammer union-fig 1502-3″×15000psi