Description
Flapper Check Valve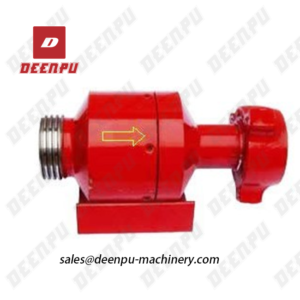 Check Valves are installed in high pressure lines to stop reverse flow by the automatic close of flapper or dart.
Flapper check valves include top-entry check valves and in-line flapper check valves, which allow fluids to flow towards the wellbore and prevent flowing backwards. For dart check valves, the flow will open the dart by overcoming the small spring force.
When the flow runs in opposite direction, the spring will push the dart against the seat retainer to prevent reverse flow.
We provides both standard and reverse-flow check valves. And we have also developed check valves for sour service in accordance with NACE MR0175.
| | |
| --- | --- |
| Product Name | High pressure check valve |
| Material Class | AA-EE |
| Working Media | Crude oil and natural gas |
| Processing Standard | API 6A |
| Working Pressure | 3000 ~ 15000psi |
| Processing Type | Forge |
| Performance Requirement | PR1-2 |
| Product specification level | PSL1-3 |
| Nominal Bore Diameter | 2", 3" |
| Connection Type | Union, BOX thread, Pin thread |
| Types | Flapper, Dart |