Description
Coiled tubing BOP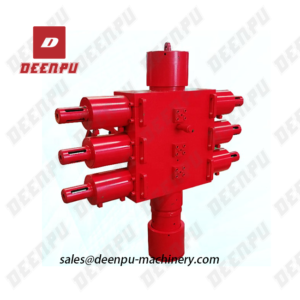 the key components for well control device, used in coiled tubing operation, effectively prevent the blowout accident, implement safety construction. Is mainly composed of the following two parts:
Coiled tubing operation BOP stack
●  The BOP box adopts the side door type, simple and convenient replacing rubber core, even the coiled tubing is in operation, and rubber core can be replaced.
●  With double cylinder structure, the use of pressure to seal and reliable sealing, long service life and control low pressure.
●  Original created side door lock structure, easy to use, stable performance.

●  BOP with full sealing ram, shear ram, slip ram and half seal ram.
●  Slip ram using removable structure design, the unique design of tooth to reduce the harm of coiled tubing.
●  Switch oil interface for fast plug connector, easy to operate, and it is equipped with protection, safe and reliable.
1. Top ram 2.Ram Body 3. Front ram rubber 4. Screw
5. Locating key 6. Feather key
Whole sealing ram assembly structure
1. Slip body 2. Ram body 3. Locating Pin
4. Locating key 5. Screw
Slip ram assembly structure
1. Up Shear Ram body 2. Screw 3. Shear blade
4. Down shear ram body 5. Locating key 6. Screw
Shear ram assembly strycture
1. Ram body 2. Front rubber 3. Countervanes 4 .Screw
5. Top sealing rubber 6. Locating key
7. Screw 8. Feather key
Pipe ram assembly structure