Description
API 16A Annular Bop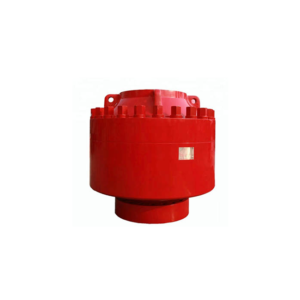 can be used in work over and drilling operations equipped with hydril control systems. The BOPs are designed and manufactured in full conformity to the API 16A standard. The API 16A annular BOP mainly consists of a body, a header, a rubber core, and a piston. The inner rubber core is interchangeable. While the annular BOP can be used independently, it normally works with a single or a double BOP.It can seal the drilling tool or well bore efficiently, preventing oil well blow outs. Its anti H2S performance conforms to the NACE MR 0175 standard.
Packaging Details:Packed in wooden cases, container transport
Port: Qingdao Shanghai Tianjin
API 16A annular BOP is offered in a variety of sizes and pressure ratings. All API annular BOP's are designed and manufactured to conform to API 16A specification, 3rd edition. All annular BOP's are rated for H2S service.
1.Annular BOP can fully seal the wellhead when there is no string inside the wellbore.
2.Annular BOP can seal the annulus space of the wellhead when there is a string, wire line and cable inside the wellbore.
3.Snubbing can be performed if the butt welding drill pipe has an 18°beve.
4.Equipped with an energy accumulator, and a tubing coupling can pass through the annular BOP under pressure when well pressure is less than 3Mpa.
Annular BOP for Workover
| | | |
| --- | --- | --- |
| Model | FH18-21 | FH18-35 |
| Nominal diameter(in) | 7 1/16 | 7 3/8 |
| Rated working pressure(psi) | 3000 | 5000 |
| Strength pressure test(psi) | 6000 | 7500 |
| Oil cylinder working pressure(psi) | 1200-1500 | 1200~1500 |
| Piston stroke(mm) | 100 | 100 |
| Metal temperature class(ºC) | -29~121 | -29~121 |
| Nonmetal temp. class(ºC) | -18~121 | -18~121 |
| Oil cylinder closed chamber volume(L) | 17 | 17 |
| Oil cylinder open chamber volume(L) | 11.6 | 11.6 |
| Bolt quantity and diameterc | 12-M30 x 3 x 140 | 12-M36 x 3 x 180 |
| Ring gasket | R45 | R46 |
| Dimension(mm) | 737 x 740 | 737 x 770 |
| Weight(lb) | 2628 | 2690 |
Annular BOP for Well Driling
| | | |
| --- | --- | --- |
| Model | FH35-35 | FH35-70 |
| Nominal diameter(in) | 13 5/8 | 13 5/8 |
| Rated working pressure(psi) | 5000 | 10000 |
| Strength pressure test(psi) | 7500 | 7500 |
| Oil cylinder working pressure(psi) | 1200-1500 | 1200~1500 |
| Piston stroke(mm) | 100 | 100 |
| Metal temperature class(ºC) | -29~121 | -29~121 |
| Nonmetal temp. class(ºC) | -18~121 | -18~121 |
| Oil cylinder closed chamber volume(L) | 17 | 17 |
| Oil cylinder open chamber volume(L) | 11.6 | 11.6 |
| Bolt quantity and diameterc | 12-M30 x 3 x 140 | 12-M36 x 3 x 180 |
| Ring gasket | R45 | R46 |
| Dimension(mm) | 737 x 740 | 1554x 1742 |
| Weight(lb) | 2628 | 12750 |