Description
S-Shaped Bop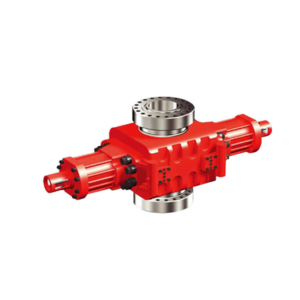 Our TYPE S Ram BOPs are designed and manufactured according to API Spec 16A standard and GB/T20174 and are equipped with single or double rams from 7 1/16″ to 21 1/4″ .
Features
Steel Body and side door.

Uses floating type ram design. Front ram rubber is separated from top ram rubber, making it more reliable in sealing and easier to change.

Oil way inside body.

Loading hinge separate from hydraulic hinge.

Compact hinge structure makes it easy to assemble and disassemble.

Arc-shaped body chamber with four round corners as transition section to reduce stress peak value.

Ram cavity can be fitted with ram assembly of same type BOP made elsewhere.

Stainless steel lined flange grooves.
Type S BOP Operation Data
Drift diameter/pressure
Oil quantity for opening the ram (L/set)
Oil quantity for closing the ram (L/set)
Locking mode
Piston diameter, mm
Remarks
7 1/16″/5000psi
1.6
1.9
Manual
150
7 1/16″/10000psi
2.22
2.5
Manual
180
7 1/16″/15000psi
7.48
85
Manual
280
Allowed to be fitted with a shear ram
9″/3000psi
1.55
1.9
Manual
140
9″/5000psi
4.7
5.3
Manual
220
11″/3000psi
2.68
3.22
Manual
165
11″/5000psi
5.2
5.45
Manual
220
11″/5000psi
14.6
16.3
Manual
355
Allowed to be fitted with a shear ram
11″/10000psi
6.6
7.4
Manual
250
11″/15000psi
14.4
16.7
Manual
355
Allowed to be fitted with a shear ram
13 5/8″/5000psi
7.4
8.3
Manual
250
Allowed to be fitted with a shear ram
13 5/8″/10000psi
19.9
20
Manual
355
Allowed to be fitted with a shear ram
13 5/8″/15000psi
17.44
19
Manual
355
Allowed to be fitted with a shear ram
20 3/4″/3000psi
12.2
13.6
Manual
250
21 1/4″/2000psi
13.2
15.4
Manual
250
Dimension Schematic of Type S Single Ram BOP Type S SINGLE RAM BOP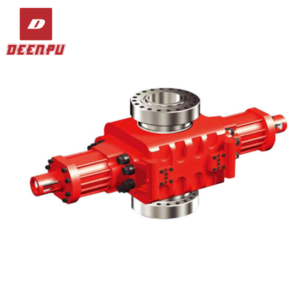 Type S DOUBLE RAM BOP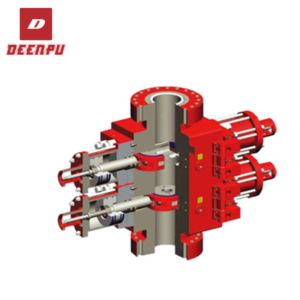 Dimension Schematic of Type S Single Ram BOP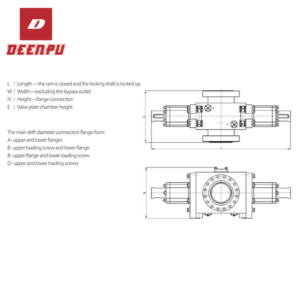 Dimension Schematic of Type S Single Ram BOP
| Size (in.) | Operating pressure (psi) | Vertical drift diameter (in.) | Main drift diameter connection flange form | L (mm) | W (mm) | H (mm) | Weight (Kg) | Remarks |
| --- | --- | --- | --- | --- | --- | --- | --- | --- |
| 7 1/16 | 5,000 | 7 1/16 | A | 1420 | 633 | 624 | 977 | |
| 7 1/16 | 10,000 | 7 1/16 | A | 1720 | 715 | 829 | 2291 | |
| 7 1/16 | 15,000 | 7 1/16 | A | 1842 | 934 | 922 | 3405 | Allowed to be fitted with a shear ram |
| 9 | 3000 | 9 | A | 1700 | 595 | 580 | 1078 | |
| 9 | 5000 | 9 | A | 2036 | 815 | 820 | 2033 | |
| 11 | 3,000 | 11 | A | 2265 | 895 | 802 | 2640 | |
| 11 | 5,000 | 11 | A | 2265 | 820 | 943 | 3646 | |
| 11 | 5,000 | 11 | A | 2363 | 866 | 980 | 3800 | Allowed to be fitted with a shear ram |
| 11 | 10,000 | 11 | A | 2384 | 940 | 1047 | 4067 | |
| 11 | 15,000 | 11 | A | 2640 | 1167.5 | 1244 | 7154 | Allowed to be fitted with a shear ram |
| 13 5/8 | 5,000 | 13 5/8 | A | 2468 | 970 | 950 | 4398 | |
| 13 5/8 | 10,000 | 13 5/8 | A | 3274 | 1488 | 1275 | 9485 | Allowed to be fitted with a shear ram |
| 13 5/8 | 15,000 | 13 5/8 | A | 3074 | 1305 | 1420 | 12035 | Allowed to be fitted with a shear ram |
| 20 3/4 | 3,000 | 20 3/4 | A | 3424 | 1238 | 1070 | 5938 | |
| 21 1/4 | 2,000 | 20 3/4 | A | 3366 | 1205 | 915 | 6605 | |
Dimension Schematic of Type S Double Ram BO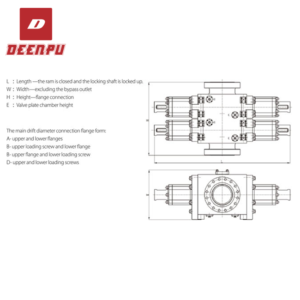 Dimension Schematic of Type S Double Ram BOP
| Size (in.) | Operating pressure (psi) | Vertical drift diameter (in.) | Main drift diameter connection flange form | L (mm) | W (mm) | H (mm) | Weight (Kg) | Remarks |
| --- | --- | --- | --- | --- | --- | --- | --- | --- |
| 7 1/16 | 5,000 | 7 1/16 | A | 1420 | 633 | 910 | 1724 | |
| 7 1/16 | 10,000 | 7 1/16 | A | 1720 | 715 | 1262 | 3520 | |
| 7 1/16 | 15,000 | 7 1/16 | A | 1842 | 934 | 1372 | 6291 | Allowed to be fitted with a shear ram |
| 9 | 3000 | 9 | A | 1700 | 595 | 860 | 2016 | |
| 9 | 5000 | 9 | A | 2036 | 815 | 1200 | 3669 | |
| 11 | 3,000 | 11 | A | 2265 | 895 | 1228 | 4661 | |
| 11 | 5,000 | 11 | A | 2265 | 820 | 1337 | 7022 | |
| 11 | 5,000 | 11 | A | 2363 | 866 | 1470 | 6300 | Allowed to be fitted with a shear ram |
| 11 | 10,000 | 11 | A | 2384 | 940 | 1582 | 6940 | |
| 11 | 15,000 | 11 | A | 2640 | 1167.5 | 1784 | 12686 | Allowed to be fitted with a shear ram |
| 13 5/8 | 5,000 | 13 5/8 | A | 2468 | 970 | 1430 | 7814 | |
| 13 5/8 | 10,000 | 13 5/8 | A | 3274 | 1488 | 1732 | 14582 | Allowed to be fitted with a shear ram |
| 13 5/8 | 15,000 | 13 5/8 | A | 3074 | 1305 | 1985 | 18439 | Allowed to be fitted with a shear ram |
| 20 3/4 | 3,000 | 20 3/4 | A | 3424 | 1238 | 1655 | 14000 | |
| 21 1/4 | 2,000 | 20 3/4 | A | 3366 | 1205 | 1505 | 10435 | |
Explosion Drawing of Type S Double Ram BOP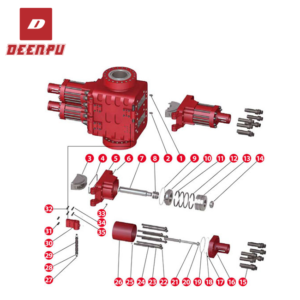 No. of Part Drawing of Type S Double Ram BOP Taking 2FZ3570-00A for instance
No.
Part No.
Name
Qty.
1
2FZ3570-01A
Body
1
2
SFZ1310-50
Pin
8
3
DFZ1310.01E-00
Blind ram assembly
2
4
SFZ1310.07-00
Door seal
4
5
SFZ1310-41
Right door
2
SFZ1310-26
Left door
2
6
SFZ1310-30
Secondary sealing screw plug
4
SFZ1310-31
Sealing grease
4
SFZ1310.32-00
Check valve
4
7
SFZ1310-09
Ram shaft
4
8
2FZ3570.10-00
Ram shaft sealing assembly
4
9
SFZ1310-47
O-ring 395×5.7
4
10
SFZ1310-08
Locking nut
4
11
SFZ1310-13
Rubber
8
12
SFZ1310-12
Wearing ring
8
13
SFZ1310-42
Piston
4
14
SFZ1310-15
Locking plate
4
15
SFZ1310-33
Bolt
32
16
SFZ1310-16
Cylinder head
4
17
SFZ1310-01
Screw plug Z3/4″
40
18
SFZ1310-25
Retainer ring
4
19
SFZ1310-24
O-ring
4
20
2FZ3570.11-00
Locking shaft sealing assembly
4
21
SFZ1310-11
Locking shaft
4
22
SFZ1310-35
Nut
32
23
SFZ1310-34
Cylinder bolt
32
24
SFZ1310-43
Cylinder manifold
4
25
GB1235-76
O-ring 38X3.5
16
26
SFZ1310-10
Cylinder
4
27
SFZ1310-04
Screw plug Z1″
24
28
GB1235-76
O-ring 60X5.7
32
29
SFZ1310-03
Hinge pin
4
30
SFZ1310-40
Right hinge bracket
2
SFZ1310-05
Left hinge bracket
2
31
GB/T118-2000
Pin 20X110
8
32
GB/T70.1-2000
Screw M24X110
16
33
SFZ1310-49
Screw plug Z1″ (perforated)
4
34
GB1235-76
O-ring 34×3.5
8
35
GB1152-89
Oil cup M10X1
4