Description
Ram BOP-Well Control Equipment
Ram type BOPs are field proven products that are designed for a variety of operations from work-overs to high pressure, critical service operations for land drilling and subsea service.
It consists of the BOP body, bonnet, hydraulic cylinder assembly, operating piston, ram change cylinder, ram opening/closing piston, locking screw, ram assembly, sealing parts etc. Top, bottom and outlet connection dimensions conform to Specification for Drilling through Equipment API Spec 16A.
Made up of the high-strength and high-tenacity alloy steel, the pressure-bearing parts (like BOP body, bonnet etc.) are formed through external refining and proper heat treatment, preventing the harmful chemical components and nonmetallic inclusion strictly from materials and ensuring BOP to be safe and reliable. The body ram chamber adopts the long runway to reduce stress concentration.
Both the bonnet switch and ram switch are driven by the hydraulic pressure and adopts the same one oil line. The bonnet employs the same one oil line and operation to open and close the ram. Moreover, the bonnet employs the same one oil line and operation to close and open the ram.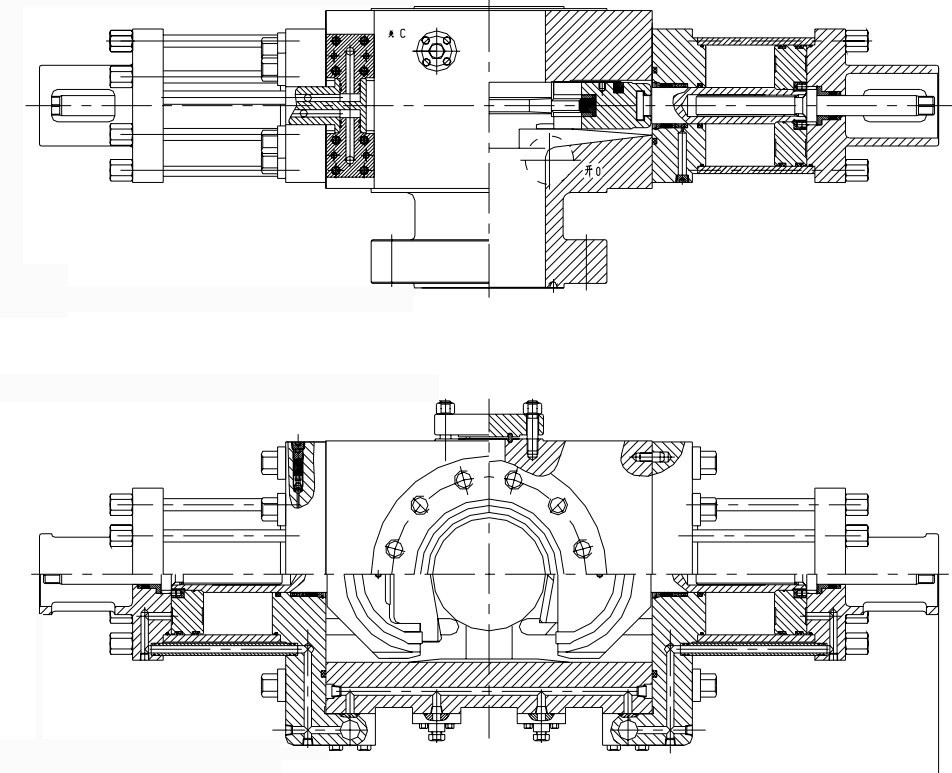 Model
Main Bore
mm(in)
Working pressure
MPa(psi)
Oil quantity for opening L(Single Cylinder)
Oil quantity for closing L(Single Cylinder)
Ram Type
Max.ram Size(in)
Dimension (mm)
Weight (kg)
length
width
height
single
double
single
double
(2)FZ18-21
179.4(7-1/16)
21(3000)
1.6
2
H
5-9/16
1420
645
568
854
855
1540
(2)FZ18-35
179.4(7-1/16)
35(5000)
1.6
2
H
5-9/16
1420
645
624
910
895
1580
(2)FZ18-70
179.4(7-1/16)
70(10000)
2.2
2.5
H
5-9/16
1720
640
897
1262
1660
3020
(2)FZ18-105
179.4(7-1/16)
105(15000)
7.4
8
H
5-1/2
1988
820
922
1372
3175
5885
(2)FZ23-21
228.6(9)
21(3000)
1.3
1.5
HF
7
1526
565
580
866
705
1250
(2)FZ23-35
228.6(9)
35(5000)
4.7
5.3
HF
7
2036
720
805
1190
1830
3415
(2)FZ23-70
228.6(9)
70(10000)
7
8
H
7
2324
850
1038
1518
3635
6835
(2)FZ23-105
228.6(9)
105(15000)
10.2
10.9
HF
7
2170
920
1140
1640
4150
7500
(2)FZ28-21
279.4(11)
21(3000)
2.7
3.2
S
8-5/8
1846
675
740
1100
1400
2550
(2)FZ28-35
279.4(11)
35(5000)
5.4
6.2
S
8-5/8
2265
785
895
1325
2475
4550
(2)FZ28-70
279.4(11)
70(10000)
7
8
H
8-5/8
2324
850
1102
1582
3770
6850
(2)FZ28-105
279.4(11)
105(15000)
14.6
16.7
H
8-5/8
2650
1050
1244
1784
6303
11028
(2)FZ35-21
346.1(13-5/8)
21(3000)
7.8
8.9
S
10-3/4
2414
760
774
1164
2705
5115
(2)FZ35-35
346.1(13-5/8)
35(5000)
7.9
9.3
S
10-3/4
2415
847
930
1370
3010
5480
(2)FZ35-70
346.1(13-5/8)
70(10000)
18
20.7
HF
10-3/4
2786
1085
1276
1782
6120
11135
(2)FZ35-105
346.1(13-5/8)
105(15000)
17.4
20
H
10-3/4
3074
1140
1420
1985
8945
16070
(2)FZ43-35
425.5(16-3/4)
35(5000)
10.3
11.6
HF
10-3/4
2923
1190
1090
1570
5300
9860
(2)FZ48-35
476.3(18-3/4)
35(5000)
24.5
27.9
HF
16
3430
1440
1504
2072
9758
12286
(2)FZ48-70
476.3(18-3/4)
70(10000)
24.5
27.9
HF
16
3430
1440
1618
2186
10312
20624
(2)FZ53-21
527.1(20-3/4)
21(3000)
12.2
13.6
HF
16
3424
1165
1065
1650
6130
13355
(2)FZ54-14
539.8(21-1/4)
14(2000)
12.1
13.8
HF
16
3300
1130
940
1480
5560
10200
(2)FZ54-35
539.8(21-1/4)
35(5000)
26
29.6
HF
16
3590
1445
1320
1950
9270
17670
(2)FZ68-21
679.5(26-3/4)
21(3000)
32.6
37
HF
18-5/8
4350
1450
1250
1870
12360
20290