Description
High Quality Butterfly Valve
A butterfly valve is a rotary valve (quarter turn valve) using a disc as the closure member. Butterfly valves can be either symmetric or eccentric (=offset), the latter referring to the stem being displaced from the center of the disc.
Body:WCB, CF8M Bonded with NBR or EPDM
Disc:ASTM A536 65-45-12 Nylon coated, CF8, CF8M, 2507, 1.4462
Stem:SS420,SS431
Body style: Flange
Nominal diameter: 2? – 88? (DN50mm – DN2000mm)
Top flange:  ISO5211
Operating pressure:  16bar for DN50-DN300, 10bar for DN350-DN2200
Description
Double flanged butterfly valve features a bonded liner extending over the flanges. The double flange design is suitable for high pressure loading and for use in heavy industry, shipbuilding, severe vacuum applications and water treatment industry like potable water, water treatment and wastewater applications.
FEATURES
1,ISO5211 top flange together with stem heat suitable for direct mounting of actuators
2,Stem anti-blowout design keep safety in field use
3,Bonded seat protects the body and shaft out of contact with medium
4,No exposed pins or bolts for stem-to-disc connection
5,Single flange mounting is possible
6,Can be installed in any desired position
7,Bubble-tight shut off at full pressure rating
8,Large flow capacity and enough strength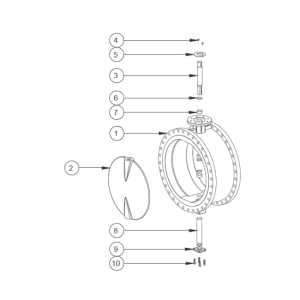 PARTS LIST AND MATERIAL SPECIFICATION
NO.
Part name
Material
1
Body
ASTM A536 65-45-12, WCB, CF8M
Bonded with NBR or EPDM
2
Disc
ASTM A536 65-45-12 Nylon coated, CF8, CF8M, 2507, 1.4462
3
Stem
SS420,SS431
4
Screw
SS304
5
Retainer
SS201
6
Weather seal
NBR
7
Bearing
RPTFE with Graphite on I.D.
8
Lower Stem
SS420, SS431
9
Bottom cover
Same as body
10
Bolt
SS304
11
Screw
SS304
TECHNICAL DATA
Body style
Flange
Nominal diameter
2″ – 88″ (DN50mm – DN2000mm)
Top flange
ISO5211
Operating pressure
16bar for DN50-DN300, 10bar for DN350-DN2200
Temperature range
-20 °C to + 140 °C (depending on pressure, medium and material)
Flange accommodation
EN 1092 PN 6/PN10/PN16
ASME Class 150AS 4087
PN10/ PN16JIS 5K/10K
Applications
Potable Water, Wastewater, Seawater, HVAC
Operation
Hand lever, gear box, pneumatic actuator, electric actuator
DIMENSIONS (mm)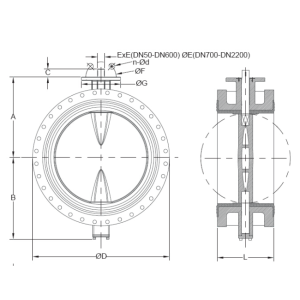 SIZE

A

B

C

D

E

F

n

d

G

J

L

WT(kg)

DN

INCH

50

2″

142

80

13.5

165

9

50

4

8

70

15

108

9

65

2 1/2″

155

89

13.5

185

9

50

4

8

70

15

112

10

80

3″

161

95

13.5

200

9

50

4

8

70

17

114

12

100

4″

180

114

13.5

229

11

70

4

10

90

17

127

16

125

5″

193

127

17.5

254

14

70

4

10

90

19

140

24

150

6″

205

139

17.5

285

14

70

4

10

90

19

140

29

200

8″

250

175

24.5

343

17

102

4

12

125

21

152

39

250

10″

282

203

25

406

22

102

4

12

125

23

165

60

300

12″

326

242

25

483

22

102

4

12

125

24

178

82

350

14″

358

267

30

533

27

125

4

14

150

24

190

108

400

16″

380

301

30

597

27

125

4

14

150

28

216

145

450

18″

422

381

39

640

36

140

4

18

175

33

222

183

500

20″

479

387

39

710

36

140

4

18

175

40

229

230

600

24″

562

457

49

840

46

165

4

22

210

40

267

303

700

28″

560

465

95

910

63.35

254

8

18

300

40

292

410

750

30″

610

508

95

984

63.35

254

8

18

300

43

308

552

800

32″

620

519

95

1025

63.35

254

8

18

300

43

318

610

900

36″

692

576

130

1125

75

254

8

18

300

46

330

750

1000

40″

735

640

130

1255

85

254

8

22

300

50

410

945

1100

44″

813

735

150

1355

85

254

8

22

300

53

450

1120

1200

48″

917

783

150

1485

105

298

8

22

350

57

470

1350

1400

56″

1000

925

200

1685

120

356

8

32

415

60

530

1700

1500

60″

1050

950

200

1820

140

356

8

32

415

78

570

2000

1600

64″

1150

1045

200

1930

140

356

8

32

415

65

600

2500

1800

72″

1260

1156

280

2130

160

406

8

40

475

70

670

3500

2000

80″

1363

1350

280

2345

160

406

8

40

475

75

760

4000

2200

88″

1500

1430

300

2555

180

483

12

40

560

85

636

4500