Description
External sleeve control choke, (Model-ES)
External sleeve control chokes minimizeerosion and improve flow characteristics suitably forerosive service and under high pressure drop, with sandconcentration. It applies the principle of "flowImpingement" to dissipate and contain the destructiveforces of cavitation, within the heavy duty thick walledcage of tungsten carbide.
Other features : 
Spring loaded pressure energized stem seal.

Field proven metal bonnet seal.

Dependable positive shut-off.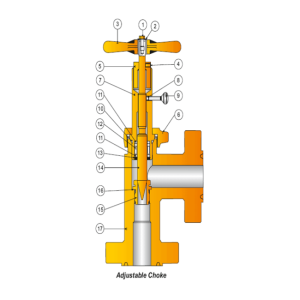 Part List
0
DESCRIPTION
QTY.
1
HEX NUT
1
2
WASHER
1
3
HANDWHEEL
1
4
HEX,SOC.SET SCREW
1
5
INDICATOR
1
6
STUD
8
7
NUT
8
8
BONNET
1
9
NYLON BALL
1
10
THUMB SCREW
1
11
RING-BONNET
1
12
JUNK RING
2
13
SEAL
1
14
BACK-UP RING -SEAL
1
15
INT. RETAINER RING
1
16
RETAINER RING-COIL TYPE
1
17
STEM
1
18
RING(2 HALVES)-STEM
1
19
INT. RETAINER RING
1
20
'O'RING
1
21
BACK-UP RING(SCARF CUT)
1
22
SEAT
1
23
SEAT SEAL
1
24
BODY
1
25
FLOW RING
1
26
BODY VENT FITTING
1
27
GREASE NIPPLE
1
28
RIVET TAG(NOT SHOWN)
4
29
NAME PLATE(NOT SHOWN)
1
30
FLANGE PROTECTOR(NOT SHOWN)
2
Size &WP
MaxOrifice Dia
2.1/16×2000
25.4 mm
2.9/16×2000
50.8 mm
3.1/8×2000
50.8 mm
4.1/16×2000
76.2 mm
2.1/16×3000
25.4 mm
2.9/16×3000
50.8 mm
3.1/8×3000
50.8 mm
4.1/16×3000
76.2 mm
2.1/16×5000
25.4 mm
2.9/16×5000
50.8 mm
3.1/8×5000
50.8 mm
4.1/16 ×5000
76.2 mm
2.1/16 ×10000
25.4 mm
2.9/16 x 10000
50.8 mm
3.1/16×10000
50.8 mm
2.1/16x 15000
25.4 mm
3.1/16 ×15000
50.8 mm