Description
BOP closing unit ( koomey bop control unit )
Item Description: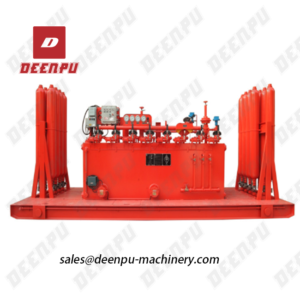 The BOP closing unit for surface-mounted BOP stacks are used to open and close Blowout Preventer and Choke Valve while drilling oil and gas well.
Its design and manufacture follows SY/T5053.2 standard, and refers to API Spec 16D specifications. The operation is easy, safe and reliable.
Specifications for Bop Control System Model Representations
K: Product Code
Q: Type of Driller Panel
Q: Air Control
DQ:Electric/air control
DY: Electric/Hydraulic Control
Omitted: without driller panel 400
Total Volume of accumulator(L)
-5 Objects Control B Improvement Code
Available of size of
FKQ320-4, FKQ640-6, FKQ480-5 etc.
Contact us for more details.