Description
Draw works
A Draw works is the primary hoisting machinery that is a component of a rotary drilling rig. Its main function is to provide a means of raising and lowering the traveling blocks.
The wire-rope drilling line winds on the draw works drum and extends to the crown block and traveling blocks, allowing the drill string to be moved up and down as the drum turns.
The segment of drilling line from the draw-works to the crown block is called the "fast line". The drilling line then enters the sheaves of the crown block and it makes several passes between the crown block and traveling block pulleys for mechanical advantage.
The line then exits the last sheave on the crown block and is fastened to a derrick leg on the other side of the rig floor. This section of drilling line is called the "dead line".
Consist: Drum and shaft assembly, brake system, cathead assembly, transmission assembly, Control system, lubrication system etc.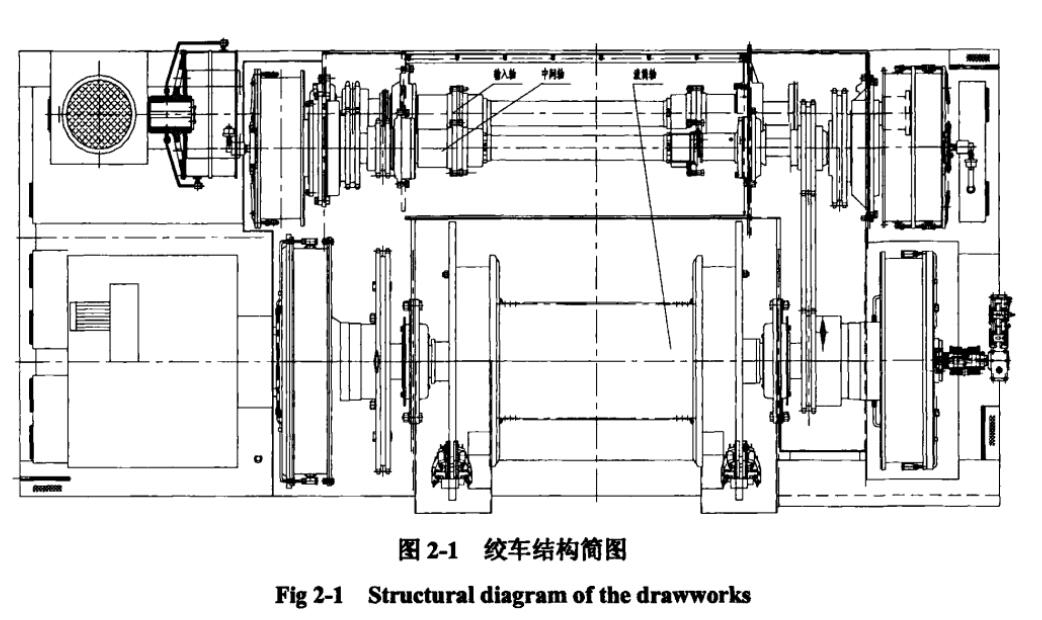 ModelParameters
JC40
JC40D
JC40DB
JC50
JC50D
JC50DB
JC70
JC70DB
Rating Impute Power
hp (kW)
1000(735)
1500(1100)
2000(1470)
Max. Fast line Pull
lbf.(kN)
61820(275)
76435(340)
109030(485)
Dia. of Drill Line
in (mm)
1 1/4(32)
1 3/8(35)
1 1/2(38)
Drum Size (dia.×width)
in (mm)
25.20×44.84
(640×1139)
25.20×51.25
(640×1302)
26.97×44.80
(685×1138)
30.31×53.58
(770×1361)
Gears for Hoisting Speed
4+2R
Step-less speed changing
6+2R
Step-less speed changing
6+2R
Step-less speed changing
Brake Disc (dia. x thickness) in(mm)
59.06×2.99(1500×76)
63×2.99(1600×76)
Main Brake
hydraulic disc brake
hydraulic disc brake, energy- consumption brake
hydraulic disc brake
hydraulic disc brake, energy- consumption brake
hydraulic disc brake
hydraulic disc brake, energy- consumption brake
Auxiliary Brake
DWS40L
WCBD236
FDWS50LD
WCBD336
DS-70