Description
Annular BOP-Well Controk Equipment
Annular BOP consists of body, upper housing, sealing element, dust-proof ring, and piston. It provides a rugged, reliable preventer and ease of service and widely used Offshore (subsea and surface) and onshore.
Annular BOP is compact, seal any size kellys, drill pipe, tool joints, drill collars, casing or wireline. Sphericals also provide positive pressure control for stripping drill pipe into and out of the hole.
Annular BOP is Manufactured in accordance with API Specification 16A, and NACE MR0175 per API Specification 16A, Temperature T20, Standard nitrile packing element: 40°F to 170°F.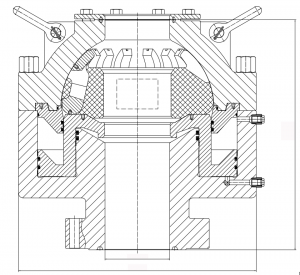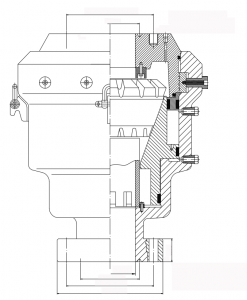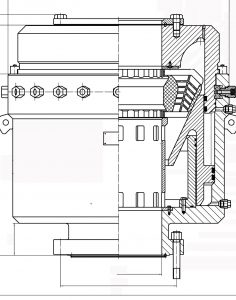 Model
Main bore
mm(in)
Working pressure
MPa (psi)
Operating PressureMPa
Connection type
Dimension mmmm
weightkg
Top
Bottom
OD
Height
FH18-21
179(7-1/16)
21(3000)
8.4~10.5
studded
fanged
737
743
1350
FH18-35
35(5000)
737
790
1572
FH18-70/105
70(10000)
1092
1136
5070
FH23-21
228(9)
21(3000)
900
830
2104
FH23-35
35(5000)
998
1200
3540
FH28-21
279(11)
21(3000)
1013
838
2574
FH28-35
35(5000)
1138
1081
4410
FH28-35/70
35(5000)
1138
1096
4451
FH28-70/105
70(10000)
1448
1420
10800
FH35-35
346(13-5/8)
35(5000)
1270
1160
6400
FH35-35/70
35(5000)
1270
1227
6843
FH35-70/105
70(10000)
1640
1664
15110
FH43-35
425(16-3/4)
35(5000)
1524
1320
10834
FH48-70
476(18-3/4)
70(10000)
1937
1882
27161