Description
A Blind Flange is a solid disk used to block off a pipeline or to create a stop. Like a regular flange, it also has mounting holes around the perimeter and the gasket sealing rings machined into the mating surface. The difference is that a blind flange has no opening to allow fluid to pass through. 
A Companion Flange, sometimes referred to as a hub, is a flange that corresponds to another flange. It has bolt holes that align with another flange is a trait of this type of flange. Usually a companion flange features a Raised Face (RF) or Ring Joint (RTJ), with a threaded outlet. Also called a Threaded Flange by some people.
API 6A Weld Neck Flanges are pipe flanges attach by welding the pipes to the neck of the flanges. This transfers stress from the flange to the pipe instead. It also reduces the stress concentration from the base of the hub. Welding neck flanges remove stress concentration and allow full working pressure and they are often used for high pressure applications. The inside diameter of the flange is designed to match the pipe's inside diameter. Weld neck pipe flanges are typically provided with a raised face, flat face, or RTJ facing.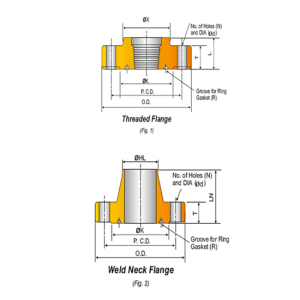 1 THREADED FLANGES & WELD NECK FLANGES, (AS PER API – 6A)
(1-1.) PRESSURE RATING:-API 6B-3000 PSI W.P.fWITH RORRX TYPE RING GASKET)
SIZE
O.D
T
0K
P.C.D.
N
0d
L |
0X
LN
0HL
R/RX
2 1/16
650
1.31
4.25
5
8
075
175
33
3.19
2.38
23
2 9/16
7.50
1.44
5
5.88
8
0.88
1.94
3.94
3.44
2.88
26
3 1 /8
8.25
1.56
5.75
6.62
8
0.88
2.12
4.62
3.56
3.50
31
4 1/16
10.75
1.81
6.88
8.50
8
1.00
2.44
6.00
4.31
4.50
37
5 1/8
13
2.06
8.25
10.50
8
1.12
2.69
7.44
4.81
5.56
41
7 1/16
14
2.19
9.5
11.50
12
1.12
2.94
8.75
4.94
6.63
45
9
16.5
2.50
11.88
13.75
12
1.2$
3.31
10.75
5.56
8.63
49
11
20
2.81
14
17
16
1.38
3.69
13.50
6.31
10.75
53
13 5/8
22
2.94
16.25
19.25
20
1.38
3.94
15.75
57
16 3/4
27
3.31
20
23.75
20
1.62
4.50
19.50
65
21 1/4
32
3.88
25
2850
24
1.75
5.38
24.00
73
(1-2.) PRESSURE RATING:-API 6B-3000 PSI W.P.fWITH RORRX TYPE RING GASKET)
2 1/16
8.50
1.81
4.88
6.50
8
1.00
2.56
4.12
4.31
2.38
24
2 9/16
9.62
1.94
5.38
7.50
8
1.12
231
4.88
4.44
2.88
27
3 1/8
9.50
1.81
6.12
7.50
8
1.00
2.44
5.00
4.31
3.50
31
4 1/16
11.50
2.06
7.12
9.25
8
1.25
3.06
6.25
4.81
4.50
37
5 1/8
13.75
2.31
8.50
11.0
8
1.38
3.44
7.50
5.31
5.56
41
7 1/16
15.00
2.50
9.50
12.50
12
1.25
3.69
9.25
5.81
6.63
45
9
18.50
2.81
12.12
15.50
12
1.50
4.31
11.75
6.69
8.63
49
11
21.50
3.06
14.25
18.50
16
1.50
4.56
14.50
7.56
10.75
53
13 5/8
24.00
3.44
16.50
21.00
20
1.50
4.94
16.50
57
16 3/4
27.75
394
20.62
24.25
20
1.75
5.06
20.00
66
21 1/4
3375
4.75
25.50
2925
20
2.12
6.75
24.50
74
(1-3).SSURE RATING:- API 6B-5000 PSI W.P. (WITH R OR RX TYPE RING GASKET)
2 1/16
8.50
1.81
4.88
6.50
8
1.00
2.56
4.12
4.31
2.38
24
2 9/16
9.62
1.94
5.38
7.50
8
1.12
2.81
4.88
4.44
2.88
27
3 1/8
10.50
2.19
6.62
8.00
8
1.25
3.19
5.25
4.94
3.50
35
4 1/16
12.25
2.44
7.62
9.50
8
1.38
3.88
6.38
5.19
4.50
39
5 1/8
14.75
3.19
9.00
8
1.62
4.44
7.75
6.44
5.56
44
7 1/16
15.50
3.62
9.75
12.50
12
1.50
5.06
9.00
7.13
6.63
46
9
19
4.06
12.50
15.50
12
1.75
6.06
11.50
8.81
8.63
50
11
23
4.69
14.63
19.00
12
2.00
6.69
14.50
10.44
10.75
54