Annular Bop Packing Elements
Our annular blowout preventer packing elements are molded from proprietary rubber formulation and geometrically designed for advanced fatigue and stripping performance in oilfield applications.
Spare packing elements are tested to stringent engineering and quality requirements, based on API 16A standards for factory acceptance testing of spare packing elements.
this includes both low and high pressure complete shutoff tests, as well as low and high pressure pipe mandrel tests to maximum rated pressures and drifting testing.
Available of size:
BOP Size Working Pressure
BOP Type
Match with
Oversea
China
7 1/16″-5,000 psi
bolted cover models
Yes
Yes
9″-5,000 psi
bolted cover models
Yes
Yes
11″-3,000 psi
bolted cover models
Yes
Yes
11″-5,000 psi
bolted cover models
Yes
Yes
11″-10,000 psi
bolted cover models
Yes
Yes
13 5/8″-5,000 psi
bolted cover models
Yes
Yes
13 5/8″-10,000 psi
Wedge cover models
Yes
Yes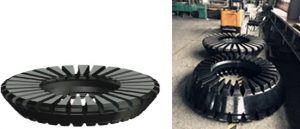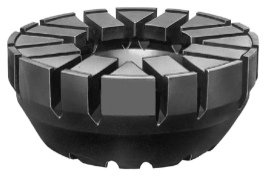 BOP Size and Working Pressure
BOP Type
Matched BOP Manufacturer
Foreign
Domestic
9″-5,000 psi
GK
Yes
 Yes
11″ 5000psi
GK
Yes
 Yes
11″-10,000 psi
GX
Yes
 Yes
13 5/8″-5,000 psi
GK
Yes
 Yes
13 5/8″-10,000/15,000 psi
GX
Yes
 Yes
16 3/4″-5,000 psi
GK
Yes
 Yes
21 1/4″-2,000psi
MSP
Yes
 Yes
29 1/2″-500 psi
MSP
Yes
 Yes
FeatureS / BenefitS
Materials expertise
Extensive materials research and development for elastomers and plastics
Experience with a wide range of material to provide optimal solutions
Complete pre-production material and process validation
Solutions for the most challenging environments
Compatible with most major annular Bops
Elements may be provided to API 16A factory acceptance test requirements at 100% working pressure on pipe and 50% pressure closed on open hole
includes Seal of authenticity and test results in documentation package
Extensive fluid immersion and temperature testing on each formula
Rigorous analysis and testing
Product testing lab enables API 16A requirement testing on Bops, ram packers and more
Material test capabilities across a broad spectrum of gas and liquids
Thermal cycling lab for product function testing
Compound development capabilities for extreme applications