Description
High quality Mechanical Dynamometer Model GLG-02 for Oil drilling instrument and meter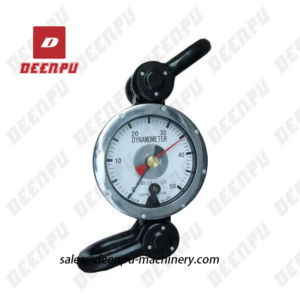 The Dynamometer has proven to have limitless versatility as a tension, traction and weight measuringinstrument. It has been used for such diverse jobs as mounting cables for bridges; adjusting tension on guy wires; field testing chain, rope, wire—anything requiring precision force or tension measurement.
Utility companies count on the Model GLG-02 Dynamometer. Communication tower erectors employ several dynamometers during installation to properly tension guy wires.
The Dynamometer is also working every day for the aviation industry and is used worldwide in military installations.
Main Technical Specification
Part No.
Model
Description &Technical Parameters
Remarks
201-02
GLG-02
Dial sizes: 10″ (250 mm) dials

Accuracy: ± 1.0% of full range

Wide range of capacities:5,10,30, 50,80, 100, 120 ,160Kn

Zero control

Maximum Overload: 125% of Rated Capacity

Flexing beam fabricated from high specification steel. Heat treated for maximum strength.

Generous shackle openings mate with most hooks and hardware.

Anti-parallax dial and pointer offers accurate readings from varying sightlines. Dial is mar and fog resistant.

Operating Temperature : 40℉  to 125℉ (4.4℃ to 52℃)

Size: 6.5″ × 6″ × 10.2″ (16.5 × 15 × 26 cm)
Weight: 44lb (22 kg)